As a child he watched solar boat races in Friesland, he studied at TU Delft and participated in the TU Delft Solar Boat team of 2013/2014. Later, he started a company to make the maritime industry more sustainable. We are talking with Gijsbert van Marrewijk, one of the founders of the Delft-based startup, Flying Fish.
Flying Fish, located at Buccaneer since 2021, develops solutions for sustainable water transport. The company has years of expertise in hydrofoil technology and has the in-house knowledge to make the maritime industry more sustainable.
Their journey has been full of sustainable innovations. Apart from their hydrofoil expertise, Flying Fish has a broad range of experience. They, for example helped the Watertaxi Rotterdam in their sustainability journey. In order to transport more people with less trips (and fuel), Flying Fish created the operations system of the Watertaxi existing of planning software, onboard databoxes, an user-friendly app and much more. In collaboration with Enviu and Buccaneer Zepp.solutions, Flying Fish also developed the first hydrogen-powered water taxi.
From leading a student team to starting a company
When we ask Gijsbert if he always knew that he would become an entrepreneur, the answer is: "No, not really. But, because of my experiences with the Solar Boat team at TU Delft, I saw what a small team could achieve in a short time. In 2013/2014, we developed a solar boat that flew over the water using only the energy which is necessary to power a kettle. I've maintained contact with the team ever since, even in the years that followed."
"A few years later Johan Schonebaum (Solar Boat team 2013/2014 and co-founder of Flying Fish) and I received inquiries from a shipbuilder who was interested in the hydrofoil technology we had applied with our team. We saw it as a signal. We both believed that the maritime industry could be more sustainable. Through an incubator, Johan and I took our first steps as entrepreneurs. We worked on writing business plans, searched for financial models, and most importantly, engaged in conversations with customers – these are things you don't necessarily learn during technical studies but are extremely valuable."
Through this program, Gijsbert and Johan got in touch with Watertaxi Rotterdam, their launching customer. "The interesting part was that the desires and needs of Watertaxi Rotterdam differed from our initial thoughts. That is why it is so important to talk and listen to potential clients. We learned that Watertaxi Rotterdam wanted to optimize their taxi scheduling to transport more people with less fuel. Fortunately, we were in a phase of great flexibility, which allowed us to adapt to their needs and reorganized ourselves in the early stages of Flying Fish.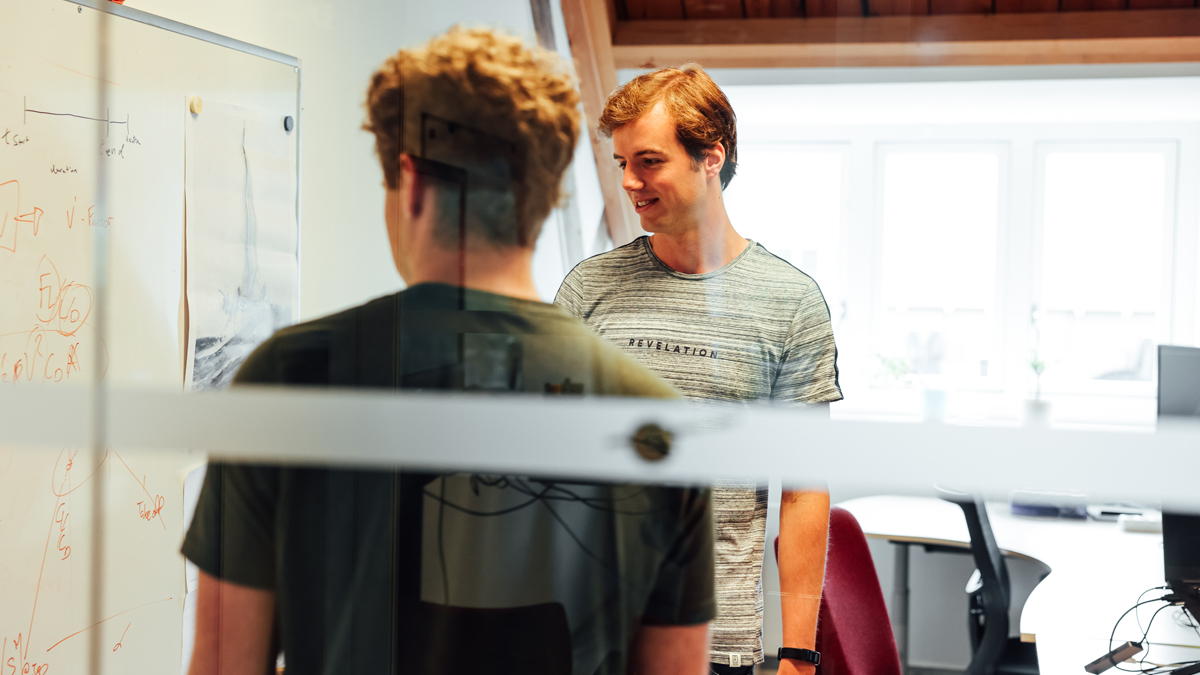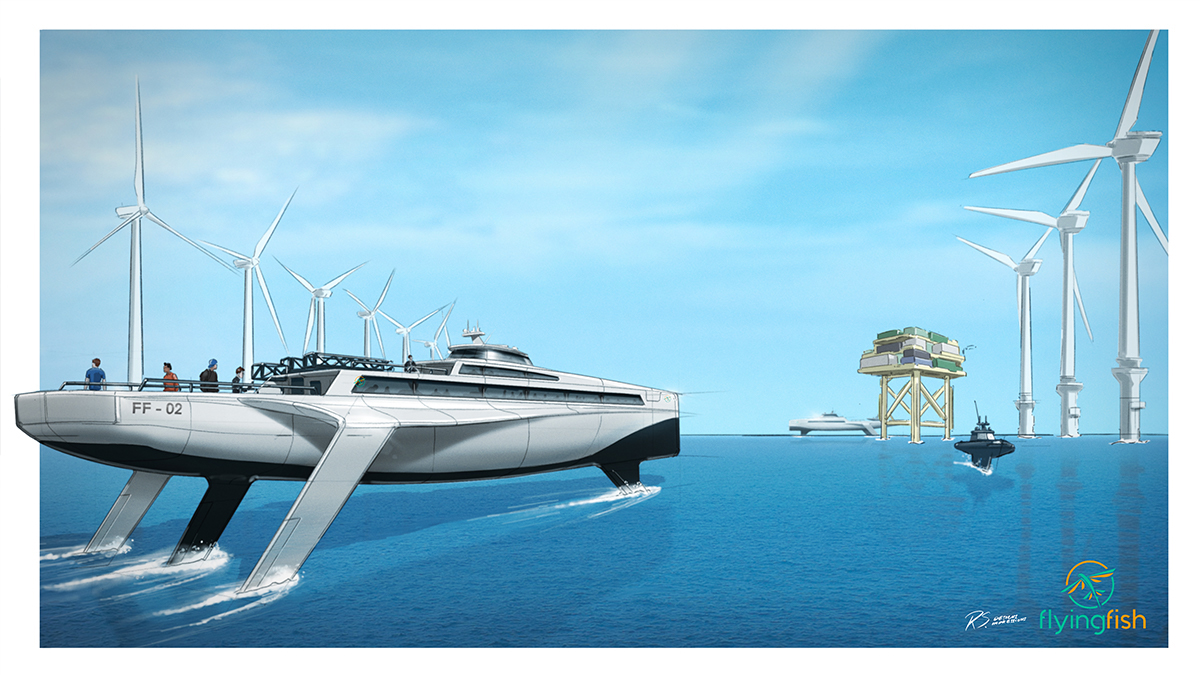 Experts in hydrofoil technology
This doesn't mean that Flying Fish didn't follow up on the hydrofoil technology. Quite the opposite – they still see this technology playing an essential role in creating a more sustainable maritime industry. "Electric or hydrogen-electric powertrains sometimes fall short, they are very expensive for large ships, and they don't fit on board of high speed vessels. We realized this more profoundly when we worked on the hydrogen-powered water taxi, and that was just a small vessel. With larger fast ships the problem becomes even more significant."
In the coming years Flying Fish therefore focusses on hydrofoil technology. "We aim to be the go-to choice for shipbuilders interested in this technology. We are working on an universal hydrofoil technology that can be applied to different types of vessels. This technique can reduce the energy consumption of high speed vessels by 80%. First step would be a demonstrator for a ship of around 18 meters and 20 tons. Our goal is to showcase that this technology is applicable for seaworthy vessels."
"We see a lot progress in sustainability; for example, our energy system needs to provide green energy generated by offshore wind farms. However, all vessels building and maintaining these offshore wind farms still run on polluting diesel: there is a big opportunity here when it comes to sustainability."
Not only supply vessels for wind farms, but also passenger ferries and patrol boats are types of vessels which can benefit from the hydrofoil technology. "With our expertise, Flying Fish can help you select the best hydrofoil concept for your vessel; it will provide for up to 80% less energy consumption, increase comfort and enables zero-emissions operations."
Scaling-up at our own strength, with a fantastic team
Gijsbert proudly looks back on the journey so far. "It's quite remarkable that we've built this company purely on our own, we did it without significant investments, and have been doing this for five years. Of course, if we want to scale-up, investments will be necessary."
Gijsbert also reflects on the development of the hydrogen-powered water taxi. "It's a wonderful project that we were able to undertake in collaboration with Enviu and Zepp.solutions. In the end it was a very complex mission; not only to build the vessel, but also to make it tick all the safety boxes. Thankfully, we could rely on the expertise of our Buccaneer partner Zepp.solutions for the hydrogen system. We still receive compliments about this system from large players like Marin and TU Delft. I can see that it has been truly innovative for the industry. We learned a lot from the project as well; we went into the project with a blank slate, while the scope of the project was still changing. Now, with opportunities of this magnitude, we think twice and consider the energy and manpower costs alongside the potential gains."
The team of Flying Fish also plays an important role for Gijsbert. "One of the aspects I enjoy about entrepreneurship, is that you have the freedom to shape an organization. We went from a group of friends to a well-balanced organization. Flying Fish is a dedicated team of 12 individuals. We have cultivated an open environment that not only welcomes new ideas and allocates time for personal projects, but also supports growth."
This sense of pride is also emphasized by the office location of Flying Fish, the Buccaneer. "It's a fantastic place to work. Being located at the Buccaneer sends a strong signal to potential customers and investors. We are part of a community of promising innovative companies in this industry, whilst being supported by top entrepreneurs. Additionally, it's great to be able to knock on your neighbour's door for advice on investors or to brainstorm on certain projects. With the network that Buccaneer has to offer, I strongly believe that we will continue to grow."
---
As an accelerator, Buccaneer Delft proudly supports start- & scale-ups in the ever-evolving energy & maritime sector. We accelerate growth, connect, inspire & help realize potential. Can we help you along your journey in becoming a successful entrepreneur? Find out more.